Blacksburg Fork & Cork Celebrates 10 Year Anniversary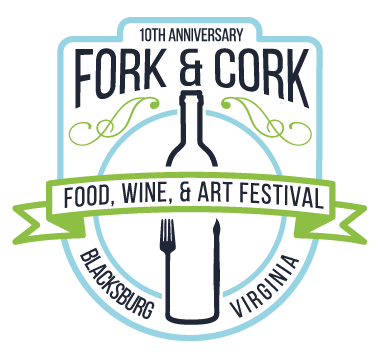 Blacksburg, Virginia, January 30, 2018 – The Blacksburg Partnership, a non-profit economic development organization serving the Blacksburg area, announces plans for the 10th annual Fork and Cork festival for wine lovers, art enthusiasts and foodies. Save the date for April 21 and make plans to purchase Premium level tickets for early admission and other perks.
"We're incredibly proud to be celebrating the 10th anniversary of our festival," said President of the Blacksburg Partnership, Diane Akers. "We've seen this event grow from a small wine tasting event in the parking lot of the First and Main shopping center to a true celebration of food, wine, art, and the great outdoors. Our attendees look forward to coming out to the festival grounds every year and it's always our goal to give them an unforgettable experience. Our 10th anniversary will once again deliver on that promise."
Tickets will go on sale in early March at both Blacksburg Kroger stores and online at: www.blacksburgforkandcork.com.
Premium wine tasting tickets are $40 in advance and $45 at the gate, allowing ticket holders to enjoy food and wine one hour early from Noon – 1pm, along with other exclusive perks during this time and throughout the day.
Regular wine tasting tickets are $25 in advance; $30 at the gate.
Admission-only tickets are $5 in advance; $10 at the gate.
Attendees must have a wine tasting ticket to purchase wine by the bottle or glass.
Hundreds of volunteers are needed for a variety of tasks before and during the festival.  All volunteers will receive a Blacksburg Fork and Cork volunteer t-shirt, a souvenir wine glass and full access to the festival before or after their shift. To become a volunteer or learn more, visit: www.blacksburgforkandcork.com/volunteer.
Save the date for Saturday, April 21, 2018, and be sure to follow the festival on Facebook and Twitter for exciting updates. For complete details, visit www.blacksburgforkandcork.com, email info@blacksburgforkandcork.com, or call 540.443.2008.